Profile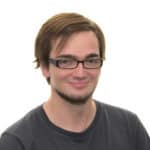 Frederik Gibson
About Me:

I live with my wife and daughter in a village in Cambridgeshire. At work I do cancer research, but at home I love playing board games and watching anime with my friends.

Read more

I grew up in Surrey with 3 sisters and 2 cats, and enjoyed visiting my grandmother in Denmark. I used to be fluent in Danish when I was small but I've forgotten most of it now.

After escaping to Cardiff University to do my undergraduate degree, I did a PhD at the University of Leicester and then moved to Cambridgeshire.

I'm quite competitive – I played badminton and was in the swimming team when I was younger, and now I use a leaderboard to keep track of the best board game players in my friend group!

A lot of my time at the moment is taken up with playing with my daughter, who was just born in 2022.

My Work:

I support the Garnett group to deliver high throughput drug and CRISPR screens that let us find new ways of treating cancer and improving treatment of cancers we currently do not have good therapies for.

Read more

I joined the Garnett group in late 2020 as an Advanced Research Assistant, where I derived novel organoids and supported research identifying and characterising genetic vulnerabilities of various cancers. I transitioned into my role as a Cellular Screening Specialist in earlier 2022, where I became much more involved in the high throughput drug screening of cell and organoid lines. Most recently I have been in charge of setting up a new project looking at molecular glues.

Before I came to Sanger I undertook a PhD at the University of Leicester investigating novel regulators of telomere length in human cells, and completed an undergraduate degree in Biomedical Sciences at Cardiff University.

My Typical Day:

Wake up, get my daughter ready for nursery and get to work for 8:30. I usually have experiments in the lab planned, but sometimes I help manage health and safety instead. Usually I go home around 16:30.

Read more

Wake up around 7 and get myself and my daughter ready for the day, and if I have time get a coffee! I drop my daughter to nursery and then drive to work, arriving at 8:30.

I am involved multiple projects and have lots of different responsibilities, so my day is never quite the same! I plan my own experiments, help other team members test drugs on our cancer cells, make sure everyone is working in a safe way, and help organise the labs we use. I work in a team of ~35 people, so it can sometimes be quite hectic!

My day usually ends at 16:30, so I drive home and meet up with my wife and daughter. We make dinner and spend time together until it's time for bed.

My CV

Education:

Qualifications:

2010 GCSE: 4 A*, 4A, 1B

2012 A level: 2 A, 2B

2016 Undergraduate: Biomedical sciences with a professional training years: 2:1

2020 PhD in cellular biology and genetics awarded

Work History:

2020-2022: Advanced Research Assistant

Current Job:

2022-Present: Cellular screening specialist

Employer:

My Interview

What did you want to be after you left school?

I knew I wanted to do something science-y, but didn't know more than that!

Were you ever in trouble at school?

Sometimes!

If you weren't doing this job, what would you choose instead?

I considered medicine for a long time, so maybe that. There are a lot of different science jobs though!

Who is your favourite singer or band?

Queens of the Stone Age

What's your favourite food?

Curry

If you had 3 wishes for yourself what would they be? - be honest!

1: Permanent free coffee 2: More time to play games 3: Being able to teleport would be nice

Tell us a joke.

A man walks into a bar... and says ouch!
---
---
---